In Conversation With… Lennie James and Paapa Essiedu, the cast of 'A Number' at The Old Vic
April 2022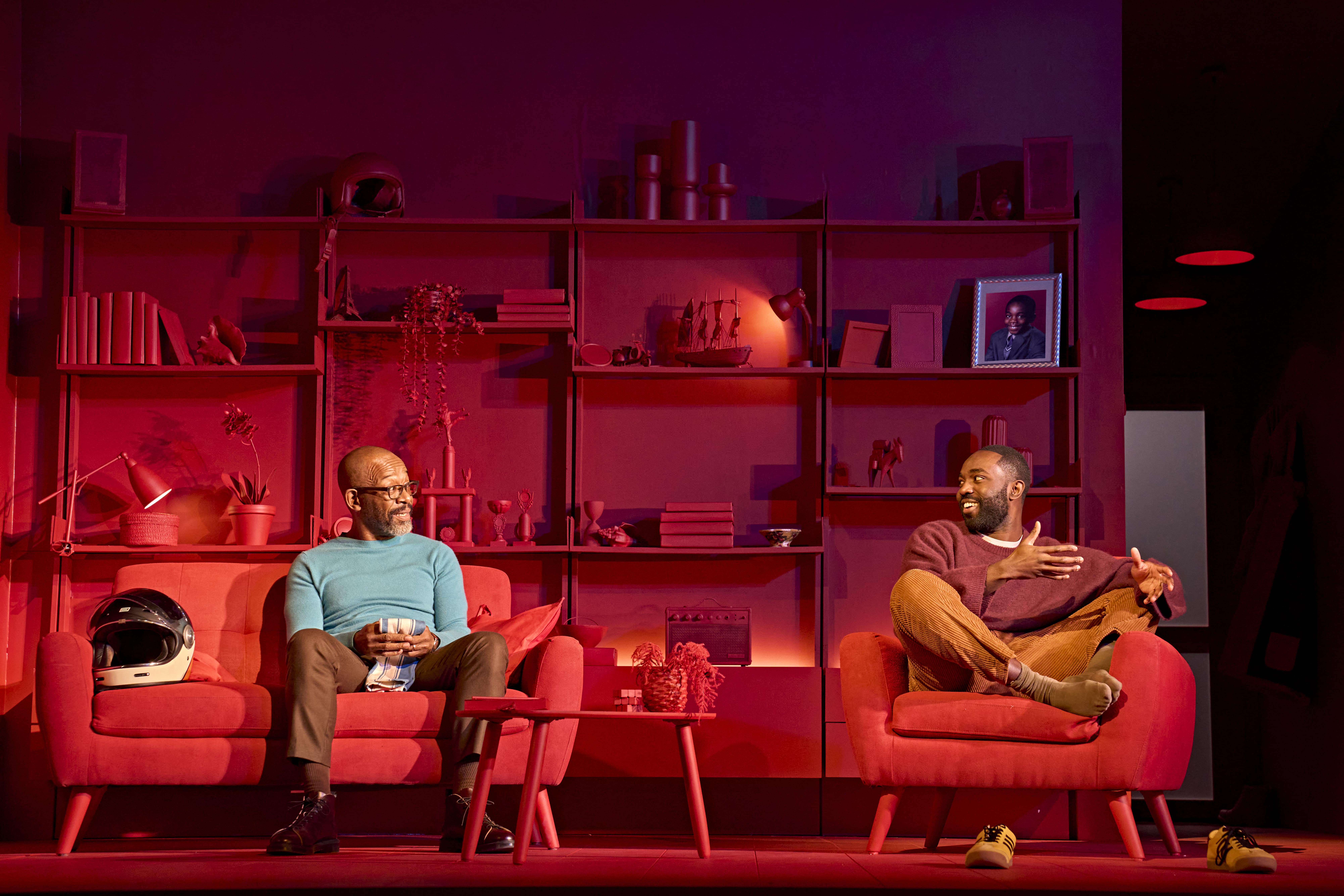 Lennie and Paapa performing at the Old Vic in March 2022 © Manuel Harlan

Lennie James and Paapa Essiedu originally found themselves as actors somewhat accidentally – and in two very different ways.

Initially, Paapa had a place to study medicine at university, something he decided not to pursue. "I clocked that it was seven more years of studying and I think that was just a bit much for me!" He had always had an interest in acting and secured himself a place at the Guildhall School of Music & Drama on their classical training course that he jokes "is three years of practising everything wrong".

Lennie's acting career originated when he turned up to an audition to impress a girl. "She wanted to be an actress and I wanted to be with her!" He landed the role, and later he too went on to study at the Guildhall. Whether or not that girl (to whom he owes his career) was impressed, remains a mystery.

Since their beginnings, both have embarked on hugely successful careers on stage and screen. Most recently, the two have finished a run playing father and sons in Caryl Churchill's powerful two-hander A Number at The Old Vic. In April 2021, the theatre was supported by a £200,000 grant from the Huo Family Foundation to its Reopening Fund.

Although it is the first time the two have performed together, it is not the first time they have worked together: when Paapa's career was just starting, Lennie was his mentor through BAFTA's Breakthrough programme. 'I couldn't mentor him… he didn't need it!' Lennie jokes.

As well as being his first time working opposite Paapa, it was also Lennie's first time on stage for 15 years – something he admits he was anxious about at the start of rehearsals. His return, however, has been a huge success, with the play nominated for an Olivier Award for Best Revival. "My fear of coming back to the theatre was much bigger than the actuality of it" he notes. "It has been, at every turn, much less frightening than I thought it was going to be, and much more accommodating".

The play, set in a near-future dystopia, investigates the dynamics of the relationship between a father and his sons, and how their decisions and actions interact with the others' lives. The nature of it being a two-hander means that for each audience that sees it, their experience of this relationship is hugely determined by how the pair perform at the time, and their indirect interactions with the audience.

"The director [Lynsey Turner] often said in rehearsals that the experience of a play is a third the writing, a third the ensemble that brings it together, and a third the audience… So, although the lines are mostly the same every day, it's never the same from one performance to the next" Paapa laughs.

As Lennie points out, even those who witness the same performance can have different experiences, something that is typical of Caryl Churchill's writing; she will encourage audiences to be active in bringing their own beliefs and sensibilities to the show. "We've had a number of conversations after the show with friends, family, and strangers, where there are two people seated next to each other on the same night and saw two completely different plays, or reacted to it in very different ways".

Another thing about the audience for A Number that has struck the pair has been its diversity. "I'm proud of what we have done with this production. The diversity of experience and background in those who have been a part of the production and the audience has been amazing." Lennie recalls. "I was so heartened by coming out of the stage door and seeing a group of 16-year-olds who had seen the play and, when talking to them, hearing about all the different plays they'd seen and how diverse an experience they were getting".

"It would be naïve for us to say that there is no culture without theatre." Paapa says. "But, that doesn't mean that theatre is not a wonderful part of our culture and we have a responsibility to provide an opportunity to as many people as possible to access that part of our culture" – something that those working at The Old Vic are striving to achieve.