For Eva Kubu, improving equitable access to post graduate opportunities is a personal matter. As a first-generation low-income student from an immigrant family, Eva worked multiple jobs to pay for her tuition at Rutgers University. She studied Organizational Psychology, forging an interest in issues around identity, access, and opportunity. Aware that she lacked the network and knowledge to navigate her college experience, she quickly found work at the Dean's Office where she noticed how few students took advantage of the college's resources: "If students weren't proactive in advocating for themselves, who was advocating for them? Who was intentional about thinking of students like myself, from low-income first-generational backgrounds with little to no professional network?"
After graduating, Eva became a Career Counsellor at DeVry University. Within a few months she was overseeing the new curricula for communications and technology and that was where her interest in leveraging technology and ed tech began. She began exploring new platforms that would facilitate greater access to professional networks and opportunities. As Eva explains, "It's balancing the high-touch and high-tech—and democratizing access to mentors and opportunities."
In the early 2000's, she returned to work at her alma mater to lead communications and marketing for their three regional career centres, just as social media was beginning to emerge. She quickly recognized that these platforms could be used as an educational and social-capital building tool. She developed a programme at Rutgers where students would blog about their experience searching for internships – a project that eventually turned into campus recognized programme The Intern (based on the popular American reality show at the time The Apprentice) which led to a consistent uptick in students connecting with the career centre.
When she joined Princeton in 2009, she launched the university's first Career Centre social media presence and, in due course, a campus-wide conference called "Social Media Day" to educate students, staff, alumni, and faculty alike on ways to use various platforms for individual and institutional storytelling. This one-day event gathered 5 million followers across Princeton's channels—proving the power of using social media for good. She has conducted three nationwide research studies to explore social media use within higher education and best practices for its use in career and professional development—for which she earned an Innovation Excellence Award from the National Association of Colleges and Employers (an organization recognized as the leading source of higher education career trends, benchmarks, and hiring forecasts in the U.S.). "I was perceived as the odd duck at the time – advocating for social media when most educators and administrators were wary of it. But we had an obligation to meet the students in this new space and guide them as to the appropriate way to create a positive online presence."
Today, Eva leads a team that helps Princeton's incredibly talented graduate students develop professional competencies, connections, and most of all, clarity and confidence. Noting the Graduate School's interconnected priorities for increasing access, diversity, and inclusion within graduate education, Eva sees ensuring equitable access to professional pathways for all graduate students as central to her work. While tenure-track faculty roles were once considered the primary pathway for doctoral students, Eva shared that future-of-work trends continue to widen the aperture of opportunity for graduate students and that there are myriad options and possibilities for them to explore. However, she notes that preparation and networks are key. "GradFUTURES focuses in equal measure on skills development and social capital creation with an explicit goal to build community among and between graduate students and the broader campus ecosystem." She notes that graduate alumni play a critical role as advocates, champions, and mentors for current graduate students. In the coming year, she and her team will expand the newly launched alumni-in-residence programme whereby graduate alumni can meet with current students in scheduled appointments to discuss a range of professional development topics. Through this new program and the mentorship program, she hopes to see to see more organic and multi-generational networks form. GradFUTURES offers over 200 skill-building and exploration programs and has connected 290 mentors and mentees to date.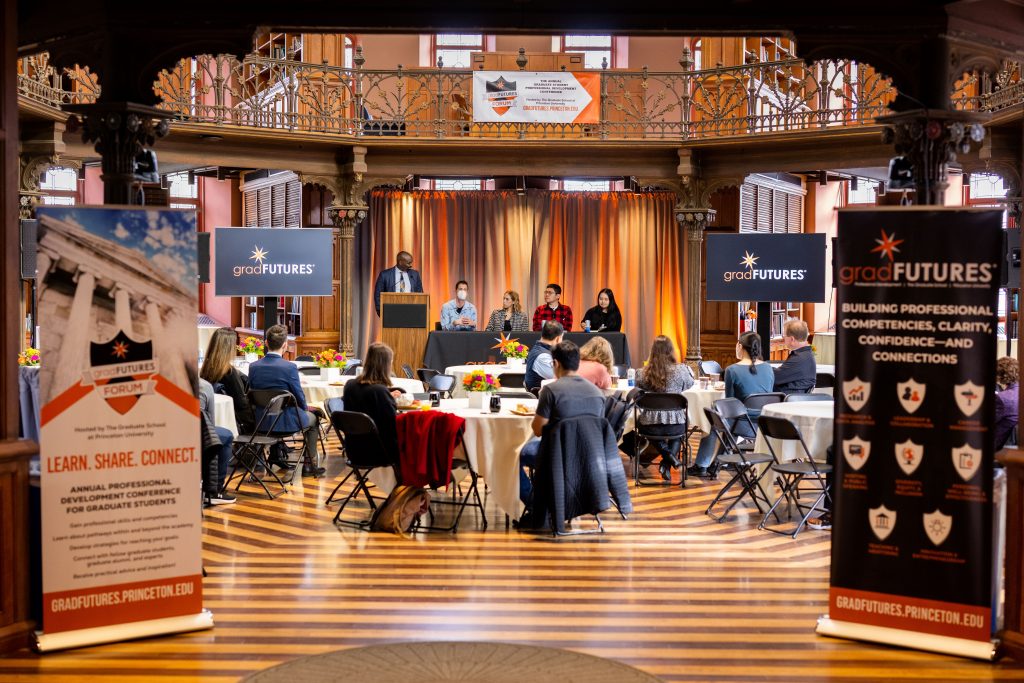 Eva is particularly proud of experiential programmes including the Social Impact Fellowships and the Micro-internships that provide graduate students from various backgrounds and fields of studies opportunities to apply their discipline-specific training, glean new skill sets, and build their professional networks in diverse work environments. Most of the experiential learning programmes offered are fully funded by the Graduate School and do not require work authorization so that international graduate students can participate. Over time, she's hoping to integrate more of these experiences within Princeton's rigorous doctoral programs. "Through these experiences, I hope that graduate students are learning more about themselves, their research possibilities, and what they truly want from their lives and careers. Ultimately, I also hope they discover ways to lead lives of impact and service in the new world of work."
One of the challenges of this role is having to keep up with the socio-economic climate that affect career trends, recent examples include the Covid-19 pandemic and Tech sector layoffs. So, she's partnered with a labor market research firm to track demand for PhDs and the top skills employers are looking for across all fields. "The trends accelerate quickly, and we try to keep our finger on the pulse of emerging markets and fields. We want to help ensure Princeton graduate students have a competitive advantage and lots of optionality as they create their futures."
Philanthropy has an important role to play – "we're extraordinarily grateful to the Huo Family Foundation. With their incredible support, we were able to launch something very special at Princeton that now serves as a model for other institutions. We're excited to build on our momentum in the next phase of GradFUTURES and continue to expand the skills training, mentorship, experiential opportunities and interdisciplinary learning programmes available to graduate students. We're just getting to the stage where some of the early participants in GradFUTURES are completing their degrees and it's heart-warming to hear their success stories."
From 2019 to 2022, HFF supported Princeton University's GradFUTURES initiative with multiyear grants totalling $1,500,000 made to the Graduate School's Professional Development Programming and Administration.