It was Gabriella Khawly's experience working 72 hours per week as a Biological Scientist during the Covid-19 pandemic at the Florida Department of Health that confirmed her aspiration to pursue a career in public health, specifically in epidemiology.
Initially, however, Gabriella planned to attend medical school. She grew up in Miami, Florida in an immigrant family originally from Haiti. She studied Biology at the University of Florida and was delighted to discover a minor called Health Disparities & Society which confirmed her interest in the structural and environmental factors that impact a person and community's health. In her third year of undergraduate studies Gabriella volunteered for a local mobile health clinic. As a care coordinator, she followed up with patients and discussed their non-medical needs, also known as their social determinants of health: "it was the first time that I witnessed this type of information being collected in a healthcare setting. It was inspiring that a programme like this existed."
While this experience offered her a rose-coloured view of medicine, her time as a Medical Assistant at a dermatology clinic on her way to attend Physician's Assistant school changed this perspective "We weren't doing anyone enough of a service at the volume at which we were seeing patients. I didn't have the training to run patient visits, and I wasn't able to dig deeper into the surrounding issues. I wanted to be in a field where I had the capacity to answer those questions so public health seemed like the right next move."
Her time at the Florida Department of Health during the pandemic confirmed this interest: "contact tracing, case investigating, calling individuals who tested positive for Covid-19, and understanding their exposure was my first experience in the world of Epidemiology." Describing is as "gruelling but fulfilling" she also discovered what it was like to work in the public health sector. This prompted her application for a Master's degree in public health and Columbia University's Mailman School of Public Health (MSPH) was one of her top choices. "I chose Columbia because NYC offered the best opportunities and was at the centre of progressive and cutting edge public health programmes. New York didn't seem financially feasible at all for me. When I found out I got the award, I was over the moon. I couldn't have gone to this school without the Huo Scholarship, and I was proud that the work I did for the community was being recognized."
When asked about her life as a Huo Scholar, Gabriella notes "The first semester is an intensive and immersive introduction to public health. The schedule was different every day, but we learned so many topics. It felt exciting for the first time to be focusing on Public Health. I enjoyed the challenge and it felt fulfilling to learn the technical skills that I know will be applicable in my future career."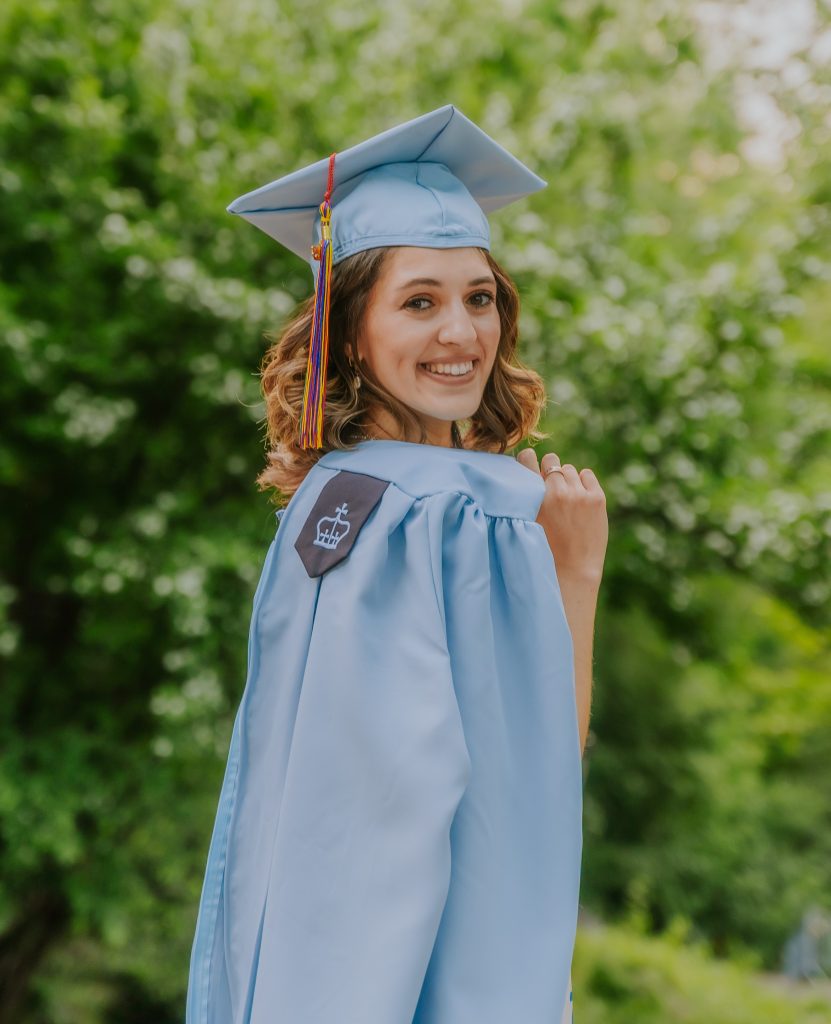 While at MSPH, Gabriella did a Summer Practicum as an intern at the New York Academy of Medicine's Centre for Community Partnerships and Policy Solutions. She was the point person for research support for campaign policies including Vocal-NY, a grassroots organization based in New York that advocates for the rights and well-being of low-income people affected by HIV/AIDS, drug use, and mass incarceration. She wrote an op-ed arguing for the expansion of overdose prevention centers around the city (the only two centres in NYC having been established in November 2021) by highlighting the positive outcomes. The piece was published in the NY Daily News on International Overdose Awareness Day. "It was a very fulfilling project because I was using my epidemiology knowledge to digest the scientific research and data on these interventions and synthesise it for a lay audience. I was also grateful to the Huo Family Foundation because the non-profit was unable to provide funding for my applied practice experience."
Gabriella plans to pursue her work at the intersection of substance use epidemiology and policy. As she graduates this Spring, she is starting a new role supporting New York State's epidemiologic surveillance of healthcare associated infections for the Centers for Disease Control and Prevention.
HFF supports the Mailman School of Public Health at Columbia University with a grant of $2.5m ($500k p.a 2020/21/22/23/24) for the Huo Scholars ($2m) and Summer Practicums ($500k).