When Jessica Harrison-Hall wrote on her university application that she wanted to read Chinese and Fine Art, her headmistress asked her to refill the form thinking she had listed it as a mistake.  In fact, it was an inspired choice: Jessica is now Head of the China Section and Curator of the Sir Percival David Collections of Chinese Ceramics, and of Chinese Decorative Art and Ceramics at the British Museum.  She is leading the curatorial team for the upcoming exhibition China's Hidden Century (18 May – 8 October 2023), which will focus on the years 1796 to 1912.
Jessica's interest in sinology started at an early age through her desire to learn Chinese: "I thought that if I knew Spanish, English, and Chinese, I would have the world at my fingertips." As a child, she was mesmerized by her close friend's Chinese grandmother who always wore beautiful qipao dresses and seemed "unique and striking in the middle of Shakespeare's county." Despite some discouragement, she pursued her passion at Edinburgh University and spent a year at the University of Shandong in Jinan, China.
Jessica joined the British Museum in 1991 working on important permanent galleries including the Sir Joseph Hotung Gallery of China and South Asia and the Sir Percival David Collection of Chinese ceramics. She also authored various publications, all with an Asian theme. She notes "the role of the curator involves working on a series of projects. It's like having a new job every three to five years. The wonderful thing about being a curator at the British Museum is getting to pick your team, in addition to your subject and materials so you really have all kinds of creative freedom."
The idea for the upcoming exhibition came about when Jessica noticed that beyond specialists there was a gap in knowledge of the visual and material culture in 19th century China. She became inspired by a particular self-portrait, in The Palace Museum in Beijing, made by Ren Xiong an artist who died tragically young at 34 but who painted the image in the 1850s. "The painting shows a man looking straight at you, with clothes half off and exposed shoulder, standing as if he was leaning on a sword but it's the sharp creases of the costume. The inscription which he wrote is self-questioning about the very nature of existence and his place in the world. It's so modern and challenging." Jessica teamed up with Julia Lovell, Professor of Modern Chinese History & Literature at Birkbeck, University of London who had written extensively about the Opium Wars and China in the 19th century, and together they applied for a UKRI Arts and Humanities Research grant allowing them to fund research for a period of four years from 2020 to 2024 with the help of Wenyuan Xin as Project Curator.
The research, book and exhibition are split into several themes: Court, Elite, Military, Urban Life, Global Communities, and Reform to Revolution. Each topic is addressed by a different author in the book that accompanies the show. The production of the second exhibition book Creators of Modern China, a "Who's Who" of 19th century China, involved over 100 scholars — only a third of the total people engaged in the whole project. "It's an interesting process that involves people from 14 countries and all kinds of backgrounds. Although Covid-19 impacted the exhibition production with rising transportation prices and limited travel, we were able to create a massive network of people – through working from home, online workshops, and discussions – and flip between China, Hong Kong, Canada, the United States, and Europe. The development of new technology has allowed for new ways of working which has been quite extraordinary, and it's better for the environment in many ways."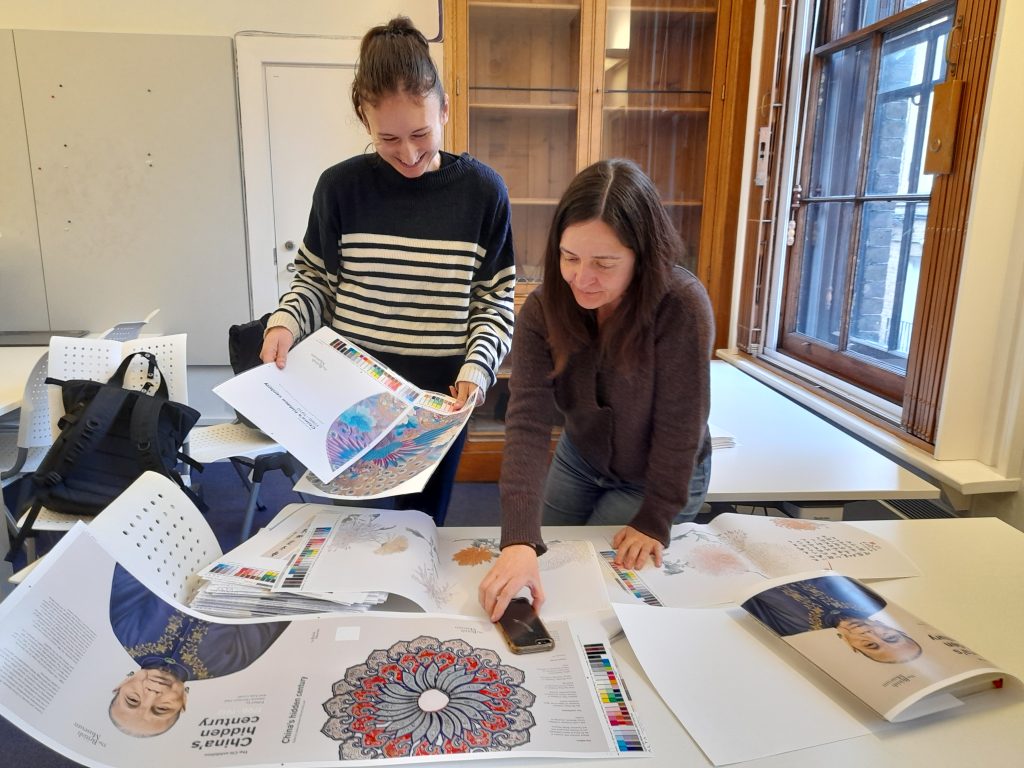 The team first built up an initial selection of 3,000 potential exhibits then gradually reduced it to 300. When asked about her favourite piece of the show, Jessica says it is impossible to choose between the textiles, paintings, porcelains, and furniture.She notes that the 70 works from private collections will be displayed for the first and perhaps only time to the public. Of the 300 items, notable pieces include a vast blue map, sourced from the British Library, of China in the 19th century depicting the extraordinary scale of a multicultural nation with 400 million people. Other items include a waterproof straw cape – which had to go through an enormous amount of conservation work including using a brush to go over hundreds of pieces of straw – and a 6 cm snuff-bottle with two portraits of diplomats painted inversely with a one-haired brush. "These items bring the material environment of real people to life. We have worked with many young people on the exhibition including students from the London School of Fashion, Goldsmiths, King's College London and SOAS."
Regarding the complexities of putting on the first show of an artistically lesser-known era, Jessica explains that "the people's reactions are the greatest challenge. Some are expecting the exhibition to be about the Opium wars or the difficult period of Imperial History. The stories of these conflicts are included but the focus of the exhibition is on resilience and creativity in hard times. We didn't know when we started how relevant the topic would become in today's world – how something beautiful and extraordinary can come out of challenging times. This exhibition also acknowledges the trauma of migration and the ways in which migrants can help a city develop and create a new kind of cultural scene. Chinese and other non-western exhibitions are always a challenge here, even internally, because though some of us have devoted our lives to studying China, we must present both to people who know a great deal more than we know and to those who know relatively little about it – on 60-word labels!"
Jessica points out that this project could not have been executed without generous funders: "In addition to our main supporter, Citi, the Huo Family Foundation's grant in 2022 has made a massive difference to the project. Philanthropic support enables us to deliver the full scope and impact and share these treasures with a wide audience."